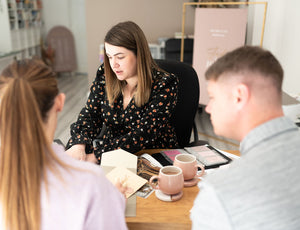 Luxury wedding stationery
Meet the Team either in our Studio or an Online Consultation
Bespoke Wedding Stationery
Say it with Print is a Luxury Wedding Stationery Supplier that offers bespoke wedding stationery designs. Our team consists of three experienced wedding designers who have come together to produce beautiful handmade stationery for our clients across the UK in our Design & Print Studio based in Flintshire.
Reviews from our customers
★★★★★

I love them.

I've only handed a few out so far and the comments have been amazing. One friend said that they are the best invitations he has ever seen. This is a massive compliment if you know him!
★★★★★

So I'm not normally speechless, but my invites yesterday made me! They are so beautiful, finished to the highest standard, photos don't do them justice they are just so beautiful!
★★★★★

Just Wow!!

How absolutely stunning are these invitations!

Out of this world.
★★★★★

Beautiful wedding invites, customised exactly as we wanted them.

They're perfect and we couldn't be happier with them. Thank you!
★★★★★

Sample for wedding invites sent really quickly.

We went on to purchase a batch of the same style, but personalised, and they are stunning!
If you're planning a wedding, one of the most important things you'll need is beautiful and personalised wedding stationery. From save-the-date cards to invitations, menus, place cards, and thank-you notes, wedding stationery is an essential part of your big day. And if you're looking for a bespoke wedding stationery company that can help you create the perfect design for your special occasion, look no further than Say It With Print.
Say It With Print is a wedding stationery company that specialises in creating unique and personalised designs for each of their clients. Their team of experienced designers and printers will work with you to create the perfect stationery suite that reflects your style, personality, and the theme of your wedding.
One of the things that sets us apart from other wedding stationery companies is their commitment to using the highest quality materials and printing techniques. They believe that every detail matters when it comes to your wedding, and that includes the quality of your stationery. That's why they use only the finest papers, inks, and printing methods to ensure that your stationery looks and feels amazing.
When you work with us, you'll start with a consultation with one of our designers. They'll ask you about your wedding theme, colour scheme, and any ideas you may have for your stationery. They'll also show you some samples of their previous work to give you inspiration and ideas.
Once you've settled on a design concept, the designer will create a custom design just for you. They'll work with you to tweak the design until it's perfect, and then they'll send you a digital proof for your approval. Once you've given your final approval, they'll start the printing process.
Say It With Print offers a wide range of bespoke wedding stationery products, including save-the-date cards, invitations, RSVP cards, menus, place cards, and thank-you notes. They also offer other printed materials such as ceremony programs, seating charts, and signage. All of their products are available in a variety of paper types, colors, and finishes, so you can choose the perfect combination for your wedding.
If you're looking for a bespoke wedding stationery company that can help you create the perfect design for your big day, look no further than Say It With Print. With our commitment to quality, personalized approach, and exceptional customer service, we/re the perfect choice for couples who want the best of the best when it comes to their wedding stationery.
Yes we offer wedding stationery packages and bundles! You can shop them on our website, request a quote or book an online consultation. That was we can make sure your save the dates, wedding invitations and wedding day stationery matches beautifully!
There are a couple of ways your can order your wedding invites with us, you can either order through our website, which generally takes 3-4 weeks, or you can book your slot in advanced with us, simply get in touch!
We usually turnaround wedding stationery in 3-4 weeks, but this does depend on whether or not you have all the information ready to go!
We recommend including:

- Your Names
- Wedding Date
- Venue Name and Address
- Time of Arrival for Guests
- Ceremony Start Time
- RSVP Deadline Date
- RSVP Return Details (Postal address, email and/or phone number) 
As an absolute minimum, but then its always good to include:

- A note on gifts
- Local Accommodation
- Local Taxi Firms
- Order of the Day
- Menu details or choices